Known Breweriana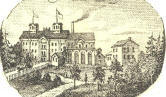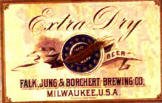 Continued:
The Bavaria Brewery was conducted by the firm Goes & Falk until 1866 when Franz became the sole proprietor, buying out Goes and forming the Franz Falk & Company business name. When Franz Falk took the reins in 1866 the production had increased to 5468 barrels. In 1867 Falk also acquired a partial interest in Goes malting business, the business being successively conducted by Goes & Falk and then Franz Falk & Co. In 1870 the Goes sold his remaining malting interests to William Gerlach & Co. who eventually bought out Falk's holdings at the original site in 1872. In 1870, Falk chose a new Menomonee Valley site just west of C.T. Melm's for a more extensive, modern brewery. In 1872 the original Bavaria Brewing operation was closed and the Menomonee Valley operation was in high gear, dramatically increasing production nearly two fold.
Falk built his own on-site malting house as part of the new Bavaria Brewery, one of the first owned and operated by a brewery, which allowed him to sell his previous malt holdings to Gerlach. By 1872 Falk was the 4th largest Milwaukee brewery behind Best, Schlitz and Blatz. In 1880 the Bavaria brewery consisted of five brick and stone buildings, including the yards, outbuildings, and side track to the Milwaukee & St. Paul Railway. The site occupied about 5 acres, operating with eight icehouses and on-site malting production of approximately 100,000 bushels annually. Falk employed 100 men, twelve teams of horses and operated it's own cooperage. In addition Falk owned their own rail cars for shipping beer.
Older sons, Louis and Frank eventually joined the brewery and incorporation papers from 1881 show the Franz Falk Brewing Corporation, as a limited family partnership with Franz as President, Louis and Franz as the Vice President and Secretary Treasurer respectively. If one examines the Trade Cards of the Falk's Milwaukee and Franz Falk Brewing Co. you notice the evolution of the company name as well as the colorful and more detailed illustrations which reflect the growing, prosperous company in it's later years. In 1877 Falk established one of Milwaukee's first bottling facilities. Every bottle bore the Bavaria Brewery's trademark: a falcon perched atop a mountain peak.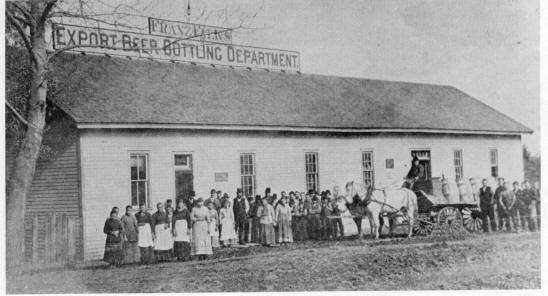 Falk later out-sourced this activity to A.Gunther who became the only bottler of Falk's Milwaukee Export Lager. A look on the back side of the trade cards also shows the assumption of bottling duties by the A. Gunther company. The Gunther operated plant was located at 20 Grand Avenue, Wauwatosa and was in operation from approximately 1878-1884. Falk's Milwaukee Bottled Beer, and Milwaukee Export Lager trade cards indicate the early adoption of shipping bottled beer allowed Falk's to expand their market to Chicago, Kansas City, Denver, Mexico, New Orleans, Pittsburg, San Francisco St. Louis, and more. With the main storage vaults only about 20 yards from the rail siding, Falk's fleet of rail cars leveraged their strategic location near the Chicago, Milwaukee and St. Paul Railroad, also operating out of the Menomonee Valley. Warranted to keep in any climate, Falk's Export Beer was an award winning premium beer. Falk won domestic and international awards, including medals from the San Francisco Mechanics Institute Exhibition of 1880 and the Advance Austrailia International exhibition. Over the years of operation the brewery's output climbed quickly while other breweries which ignored the idea of a national market were left behind, or failed. <<Back>> <<Continue>>